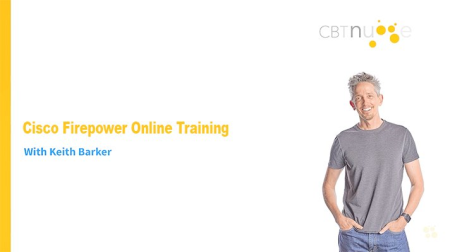 Keith Barker | Duration: 18:00 h | Video: H264 1920x1080 | Audio: AAC 48 kHz 2ch | 9,17 GB |
Language
: English
In this intermediate Cisco skills training, Keith Barker prepares network administrators to learn about next-generation firewalls. This network infrastructure training may not map to a Cisco exam, but it's still an excellent primer for anyone who needs to learn about Cisco's next-generation Firepower firewalls.
Security is everyone's responsibility, and Cisco FirePower helps you ensure that everyone is living up to that responsibility with application-layer filtering and control. The resulting ASA firewalls are Cisco's next-generation firmware (NGFW) devices. With the increasing emphasis on defense-in-depth and security posture, network administrators with FirePower knowledge can set themselves apart professionally, while making sure their users are doing the right thing.
After completing this Cisco Firepower training, you'll know how to use lists and feeds, how to blacklist IP addresses and URLs, and how to implement Security Intelligence (SI) as part of an access control policy in Firepower. Network administrators who complete this network infrastructure course will be well-positioned to step into network security positions or senior network administrator roles.
For supervisors, this Cisco security training can be used to onboard new network administrators, curated into individual or team training plans, or as a Cisco reference resource.