Creating a Full Character in ZBrush - FlippedNormals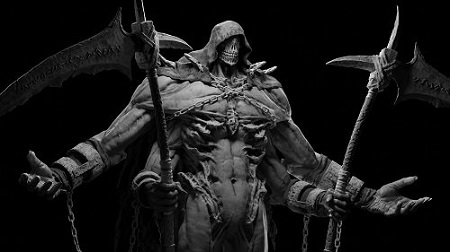 Creating a Full Character in ZBrush - FlippedNormals | 6.04 GB
If you've ever played a Souls game and been awestruck by the world-building and designs, you've come to the right place!
In this 18-hour course, the aim is to create a thematically similar character to those of the beloved Souls universe. Let's take a ZBrush journey together and explore the many aspects of creating a full character from start to finish.
Everything you see, we'll make! That's right, nothing is skipped or time-lapsed. You'll be guided through the entire process with commentary. When all is said and done, you will have the necessary tools to not only re-create, but also venture out on your own, and start creating bosses for yourself.
WHAT WE'LL COVER
Some of the topics we'll be covering includes
Anatomy
Design Philosophy
Weapon Creation
Posing
Texturing
ZModeler
I recommend that you have a decent working knowledge of ZBrush as we'll be jumping straight in.
WHAT'S INSIDE
In addition to the narrated videos, you'll find all relevant workfiles that you need in order to follow along. This includes
24 Narrated Videos
2 Bonus Chapters
ZBrush Noise Presets
Custom Chain Brush
Fabric Texture
Complimentary PDF
Custom UI
Custom Hotkeys
Included are two bonus chapters where we focus on getting our model in and out of ZBrush as well as doing a complete lightning setup in Blender
CHAPTER LIST
00 – Tools
01 – Reference and Blocking
02 – Anatomy Refinement
03 – Hands, Feet and Refinement
04 – Detailing
05 – Hands and Feet
06 – Face
07 – ZRemesh
08 – Detailing
09 – Detailing Hands and Feet
10 – Rough Posing
11 – Accessories
12 – Accessory Detailing
13 – The Scythe
14 – Scythe Detailing
15 – Closing the Hand
16 – Fixing the Legs
17 – The Cape
18 – Finishing the Cape
19 – UVs
20 – Noise Details
21 – Basic Textures
22 – Finishing the Textures
23 – Final Tweaks
24 – Bonus 01 – Exporting
25 – Bonus 02 – Lighting
The course was made with ZBrush 2022.0.5
Homepage
https://flippednormals.com/downloads/creating-a-full-character-in-zbrush/
Link Download

Download Via UploadGig
Download Via Rapidgator
Extract files with WinRar 5 or Latest !