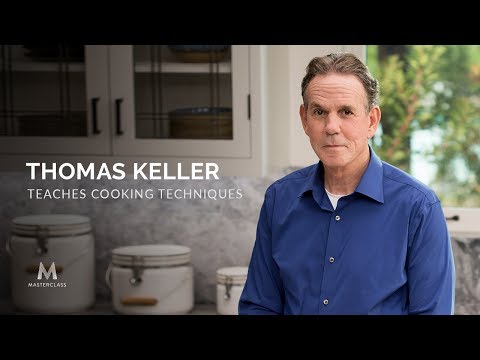 MasterClass - Thomas Keller Teaches Cooking Techniques
Fundamental techniques. Fantastic food.
Thomas Keller is the only American-born chef to hold multiple Michelin three-star ratings. In his first online class, the chef behind The French Laundry teaches you how to master the fundamentals of cooking. Learn about handling kitchen tools, preparing foundational ingredients (like vegetables, eggs, and pasta), and the science behind cooking. Gain the skills-and confidence-that will help you execute recipes to perfection.
Lesson Plan
01 Introduction
02 Kitchen Setup: Essential Tools
03 Kitchen Setup: Essential Ingredients
04 Kitchen Setup: Cookware
05 Sourcing Ingredients
06 Vegetables: An Introduction
07 Big-Pot Blanching: Asparagus
08 Glazing: Carrots
09 Peeling: Tomatoes
10 Braising: Artichokes
11 Pureee: Potatoes
12 Pickling
13 Puree: Parsnips
14 Confit: Eggplant & Garlic
15 Roasting: Zucchini
16 Baking: Beets
17 Eggs: An Introduction
18 Mayonnaise
19 Hollandaise
20 Custard: Creme Anglaise
21 Meringue
22 Boiled Eggs
23 Scrambled Eggs
24 Poached Eggs
25 Omelet
26 Pasta: An Introduction
27 Pasta Dough
28 Agnolotti
29 Agnolotti with Peas and Bacon
30 Spaghetti alla Chitarra and Cavatelli
31 Spaghetti Aglio e Olio
32 Fettuccine and Linguine
33 Gnocchi
34 Gnocchi with Pomodoro
35 Six Disciplines of Success
36 Essential Philosophies
Homepage:
https://www.masterclass.com/classes/thomas-keller-teaches-cooking-techniques
Screenshots
Link Download

Extract files with WinRar 5 or Latest !