Marty Marion - Brand Positioning Complete Master Course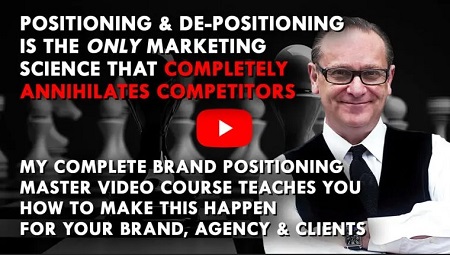 Marty Marion - Brand Positioning Master Course | 21.87 GB
Learn From Real Life Madison Avenue Agency 'Mad Man' Marty Marion:
The Insider Secrets, Strategies & Tactics That Only The World's Top Brands and Agencies Had Access To UNTIL NOW!
Join My Master Course Now, And Learn The Positioning Secrets Your Competitors Don't Want You To Know
Positioning Science is the most powerful strategy in any marketer's toolkit by far. My new MASTER COURSE in Positioning is uniquely created for agencies, brand owners, consultants and marketers in every niche.
As the creator of The Positioning MatrixTM – the world's first mathematical model for creating a brand's positioning platform – I literally 'wrote the book' on competitive advantage strategy to take massive market share away from your competitors, totally dominate your category and explode your revenue. AND I'M TEACHING IT ALL IN MY POSITIONING MASTER COURSE.
Positioning is the science behind every leading brand in every category. It's the reason why EVERY leader in their category IS the leader in that category.
Positioning is how you totally control consumer and client 'buying decisions' about your brand, agency or service in your favor and away from your competitors.
MASTER COURSE CURRICULUM AND PROGRAM DETAILS:
Lesson 1: The Core of Positioning & De-Positioning
Lesson 2: The Positioning Platform
Lesson 3: The Positioning Matrix
Lesson 4: Category Classes, Why They Always
Win
, How to Create Yours
Lesson 5: 'Brand' vs 'Branding'; Competitor vs Competition (Yes, They Are Different!)
Lesson 6: Doubt And Dissatisfaction - The Two Critical Movers, How to Create Them
Lesson 7: Brand Positioning Ladders and the Variance of Positioning Influence
Lesson 8: Brand and Positioning Traps You Are Making; How to Avoid Them; How to Fix Them
Lesson 9: Controlling The Decision-Making Process - Part 1
Lesson 10: Controlling The Decision-Making Process - Part 2
Lesson 11: Controlling Perceptions, Beliefs and Interrupts
Lesson 12: The Positioning Venn Systems
Lesson 13: Positioning in Advertising and for Agencies
Lesson 14: Marty's Private Client Positioning Workflow
Lesson 15: Ultra Advanced Positioning and De-Positioning Tactics
Lesson 16: Segmentation To Increase Conversion, Stimulation and Retention
Lesson 17: Positioning and The Acquisition Phase
Lesson 18: Positioning and The Conversion Phase
Lesson 19: Positioning and The Stimulation Phase
Lesson 20: Positioning and The Retention Phase
Lesson 21 through 24: The Weaponization of Marketing and Advertising
Homepage:
https://masterpositioning.com/positioning-master-course/#sign-up-here
Screenshots
Link Download

Extract files with WinRar 5 or Latest !