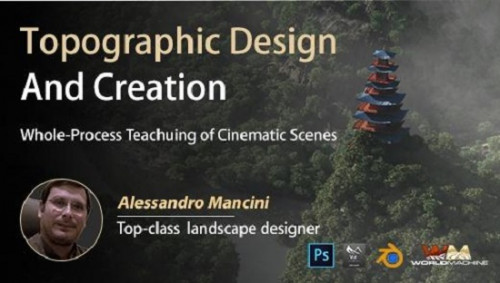 Wingfox - Terrain Design and Creation - A Whole-Process Case Teaching of Cinematic Scene (2020) with Alessandro Mancini
English | Size: 2.4GB
Category: Tutorial
This tutorial will teach you how to paint a large-scale natural scene.
Through in-depth case analysis of high-precision cinematic works, the tutorial adopts a learning method featuring multi-software interaction, high efficiency and high quality.
The tutorial focuses on the design philosophy and basic elements of building terrains. By using World Machine, Blender, Vue and Photoshop, the tutorial will show you how to create a terrain step by step. Instructed by a top-class scene designer, you will learn the entire process of 3D terrain building from the most fundamental part, and understand the use of various types of software in the same workflow. The knowledge and skills you learn from this tutorial will significantly improve your capability in this field, and help you lay a foundation of learning digital painting and VFX.