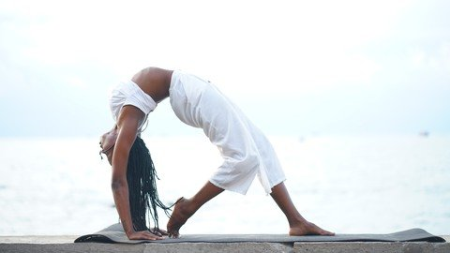 MP4 | Video: h264, 1280x720 | Audio: AAC, 44.1 KHz
Language
: English | Size: 4.33 GB | Duration: 3h 21mTone, Sculpt and improve your Health in 10 days
What you'll learn
Breath Fluidly
Knowledge of Incorporating props within yoga flows
Surya Namaskar also known as the sun salutation
Comprehension of Back and spine drills
Creating a Full flow.
Reduction of joint pain
Improvement of flexibility
Requirements
No previous yoga experience is necessary. A certain few of the yoga lessons do require you to have: yoga blocks a yoga strap ( or towel) and a yoga mat or a soft towel to do your practice.
Description
A journey of thousand miles begins with a single step
Within the next 10 days I will guide you through an intensive yoga course with only dedicating just 20 minutes a day. We will touch base on foundation, mobility, and increasing energy levels. As you progress into this course each lesson gradually gets more challenging as your abilities increase. I'm the Dreadlock Yogi Desiree the creator of the 10 20 yoga challenge. My mission is to create a program for beginners, busy parents and the average individual who has limited time to dedicate hours at the gym each week. This course is intended to be accessible so that incorporating this practice within your daily routine could be easily obtainable from everywhere. I believe that the welfare of achieving good health is interconnected with consistency and discipline starting within yourself. In this course you will only practice 20 minutes a day advancing through various areas within yoga. As you come to discover that each module is divided into 10 complex videos granted to aluminate the benefits that you will receive upon completion. I highly recommend even incorporating a simple writing practice to keep track of your performance and emotional well being before and after each sequence. I'm grateful for the privilege of gifting you with the powerful knowledge and techniques of yoga. When you're ready I'll see you on the mat. Namaste.
Who this course is for:
Beginners to yoga who wish to achieve better health and a more active stress-free lifestyle by just dedicated a few minutes a day.