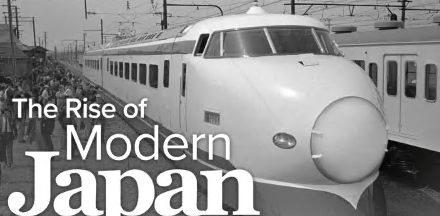 MP4 | Video: h264, 1280x720 | Audio: AAC, 44.1 KHz, 2 Ch
Genre: eLearning |
Language
: English | Duration: 12 Lessons (5h 54m) | Size: 5 GB
In August 1945, Japan's future looked bleak. Its navy had been destroyed, and its cities were being razed by US bombers, which had turned to launching atomic weapons. Meanwhile, a million-man Soviet army was crushing Japanese forces in China. Facing annihilation, the country's leaders had little choice but to surrender, bringing World War II to a smoldering, near-apocalyptic end. How does a country go from the brink of collapse to a global economic powerhouse over the course of a few decades?
Fast-forward to the late 1960s. Japan is in the middle of an economic miracle like few others, making it second only to the United States in the size of its economy. Indeed, by the 1980s, Americans will be justifiably worried that they are doomed to be surpassed by Japan's industrial and technological might.
How did Japan's fortunes shift so dramatically? And why did the country's economy then crash catastrophically in the 1990s, indefinitely stalling its seemingly unstoppable climb to world dominance?
In 12 wide-ranging, half-hour lectures, The Rise of Modern Japan probes the culture, economy, and politics of post-World War II Japan, presented by Professor Mark J. Ravina, the Mitsubishi Heavy Industries Chair in Japanese Studies at the University of Texas at Austin. A frequent traveler to Japan where he has studied, taught, and speaks the
language
fluently, Mark is a knowledgeable insider, bringing the country sharply into focus with insights such as these:
Empire 1.0 and 2.0: Defeated militarily, Japan traded the dream of an empire won through conquest (which Mark calls Empire 1.0) with an economic empire gained solely through commerce and industry (Empire 2.0). The United States played a prominent role in this switch by guaranteeing Japan's security.
Emperor Exonerated: Neither the Japanese nor the American people expected the Japanese emperor to escape culpability for his nation's conduct in World War II. Yet due to Cold War politics that is precisely what happened, falsifying the full truth about what led Japan to war.
Quality Revolution: Japan's ability to produce high-quality goods at relatively low cost led to deep soul-searching in US boardrooms and business schools in the 1980s. The secret of Japan's success turned out to be an overlooked, underutilized American invention-total quality management.
Recipe for Recovery
Japan's fortunes rebounded after the war thanks to astute government policies and savvy business practices, combined with luck and the traditional Japanese virtues of hard work, discipline, and prioritizing the community over the individual. Mark highlights the key milestones, including the adoption of a new Japanese constitution in 1947, written by the United States during the American occupation, which lasted until 1952. The new charter guaranteed fundamental rights and renounced the use of armed forces except for self-defense. Freed of the demands and temptations of a large military, Japan could concentrate on economic recovery. The Korean War (1950-1953) jumpstarted the process by providing ample American contracts for war goods and services.
Although Japan was now on course for peaceful economic growth, the far-right sought to revise the constitution so the country could once again wage war, a scenario that could easily have changed the postwar balance of power. Mark recounts how Prime Minister Yoshida Shigeru, in office almost continuously from 1946 to 1954, diffused the threat and established the realist foreign policy that has guided Japan ever since, thanks to a military alliance with the United States. You also learn the backstory of Yoshida's unsuccessful attempt in early 1944, along with other high-placed officials, to persuade the emperor to end Japan's part in World War II by surrendering to the United States and its allies-an outcome they saw as inevitable, as it proved to be.
The Rise of Modern Japan goes in depth into the pivotal economic role played by the Ministry of International Trade and Industry (MITI) from the 1950s to 1970s, which steered Japanese industrial policy, research, and investment. MITI was powerful but not infallible. A small, upstart electronics company called Sony defied its plans and succeeded spectacularly. Honda, too, ignored MITI and expanded from motorcycles into the car business, becoming a major international player.
The Bubble Bursts
By the late 1980s, Japan's economy had been growing at a breakneck pace for four decades. Mark shows how disaster loomed, heralded by these events:
Asset Price Bubble: Around 1985, asset prices in Japan began a steady climb that would reach unsustainable levels. At one point, the 1.3 square miles of the Imperial Palace in Tokyo was valued at more than all of California! Alarmingly, asset markets were growing at a rate far greater than that of the underlying economy.
The Lost Decades: The collapse in prices began in 1990. Unusually for a market correction, the crisis hit banks, stocks, and real estate, in some sectors dropping by 75%. The decline was precipitous, and the recovery excruciatingly slow, leading to "lost decades" of economic growth-a new experience for many Japanese.
March 11, 2011: This is the date that the Japanese call simply 3/11, when one of history's most powerful earthquakes rocked northern Japan, triggering a mammoth tsunami that killed 20,000 people. Coastal nuclear power plants were inundated, leading to widespread radioactive contamination.
Few other countries have faced a comparable rollercoaster ride-from the ashes of World War II to prosperity, followed by economic stagnation, and the threat and devastation of natural disaster. Japanese popular culture captured some of this shift in its art and media. To give you a deeper look at this phenomenon from the Japanese perspective, Mark surveys the changing public mood reflected in some of his favorite award-winning Japanese films. From 1947 he recommends A Ball at the Anjo House-Japan's Gone with the Wind-about the decline of a wealthy family who have lost everything in the war and its aftermath. Woman in the Dunes is a surreal thriller made in 1964 that tells the story of an alienated man who gets trapped in an isolated village where he finds fulfillment. The Family Game from 1983 is a satire that ridicules complacent middle-class life. And emblematic of the country's post-bubble blues, Tokyo Sonata from 2008 is about a family that falls apart after the husband loses his white-collar job. These and other movies on Mark's list are superb works of art as well as insightful records of the shifting state of mind of a people who have lived through a transformative time.
The remarkable transformation from post-WWII collapse to meteoric rise and beyond, captured in film as well as in history books, is what you will experience in The Rise of Modern Japan.