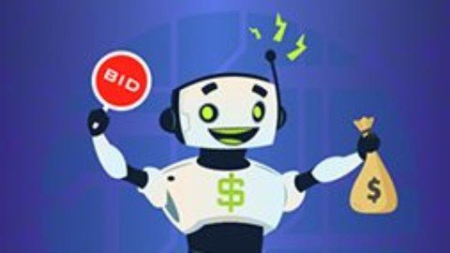 Genre: eLearning | MP4 | Video: h264, 1280x720 | Audio: AAC, 44.1 KHz
Language
: English | Size: 3.71 GB | Duration: 8h 35mHow I Made 100k of Passive Income
What you'll learn
Introduction To Trading Bot Series
3Commas Trading Bot Introduction Pt 1
3Commas Trading Bot Introduction Pt 2
How Do You Select Which Altcoins to Trade?
How to Start With a Smaller Account
The BEST Exchange to Use and Profit Compounding!
Trailing Take Profit & Trailing Stop Loss
Creating Custom Signals on Trading View
Short Bots and Leveraged Bots
How to Set Up a Composite Bot For Small Accounts
Over Extended? Here Are Some Ideas to Help Manage Your Bots
How I Made $100,000 Using 3Commas Trading Bots
Bots Vs. Deals
Bot Settings Update!
Description
Welcome to Trade Alts awesome trading community! We welcome all levels of traders from total beginners to you crazy day traders who go to sleep dreaming of charts! Please be respectful and mindful of each other and remember that this is a community that respects and encourages active learning. We want everyone to be successful!
During this course, you will learn everything you need to know to generate bots for your exchanges to generate passive income. Bots are extremely simple and require no previous knowledge of cryptocurrencies or trading in order to take part in utilizing them. Before creating bots for yourself, please be sure to go through the entire course.
Cryptocurrencies are known for being incredibly volatile, with prices fluctuating dramatically. Investors also have the chance to participate in crypto trading around the world and at any hour of the day. Together, these factors limit the effectiveness of human crypto trading in several ways.
First, investors in many cases cannot react quickly enough to changes in price to achieve the optimal trades that are theoretically available to them. Slowdowns in exchanges and transaction times further exacerbate this problem. Second, investors can simply not dedicate as much time to the cryptocurrency markets as necessary to always achieve the best trades. Doing so would require 24/7 monitoring of cryptocurrency exchanges all over the globe.
Fortunately, there are solutions to these issues. Trading Bots are a great solution for that because they conduct trades and execute transactions on our behalf 24/7.
This course is not financial advice!
DM me to inquire for our VIP Discord channel where we discuss potential trade entry and exits, bots, and everything related to crypto! Also, stay tuned for more trading courses covering how to use different methods of technical analysis that I use on a daily basis.
Who this course is for:
Beginner to Advance traders looking to make passive income
Beginner to Advance traders looking to build their positions passively