Altium Concord Pro 2021 version 4.0.2 Build 1 with Plug-ins (x64)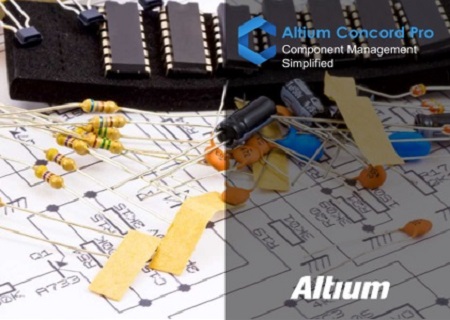 Altium Concord Pro 2021 version 4.0.2 Build 1 | 2.0 Gb
The software developer Altium is pleased to announce the availability of Concord Pro 4.0.2 Build 1 is your single source for component data, real-time sourcing information, component traceability within designs, and collaboration with your mechanical design team - all within the Altium Designer unified environment.
Version 4.0.2 - Build: 1 Date: 25 June 2021
14954 Fixed issue with .NET Core installation that occurred when installing on some operating systems and on a fresh computer (where an Altium Server had not been installed previously).
15016 Added an explicit check before installation for the amount of disc space needed for a search index rebuild. Lack of disc space was causing failure of installation.
Altium Concord Pro is cloud-based ECAD component management platform that allows PCB designers to share and reuse schematics, footprints, 3D models, and other data across the PCB design process. The solution also synchronizes directly with Octopart supply chain data to offer insight into product availability, lead-time, cost, and alternatives.
The Concord Pro platform runs on the Altium 365 cloud infrastructure, and integrates with Solidworks, Invetor, and PTC Creo so that MCAD and ECAD teams can instantly share PCB design updates. Templated component data authoring ensures that information can be easily requested, accessed, and understood from a single location.
Additional features include component traceability that can be used to track where components have been used in the past. The platform also offers role-based access controls so that buyers and manufacturing partners can benefit from the simplified use and maintenance of component libraries.
In addition to a managed cloud offering, Concord Pro can be deployed on-premise and accessed through Altium Designer.
Concord Pro Evaluation Video Series
Altium Concord Pro helps you Organize, Store, Share, and Maintain up-to-date electronic component information and enable Native Bi-directional MCAD interaction.
Altium LLC. is a multinational software corporation headquartered in San Diego, California, that focuses on electronics design systems for 3D PCB design and embedded system development. Altium products are found everywhere from world leading electronic design teams to the grassroots electronic design community. Founded in 1985, Altium has offices worldwide, with US locations in San Diego, Boston and New York City, European locations in Karlsruhe, Amersfoort, Kiev, Munich, Markelo and Zug, and Asia Pacific locations in Shanghai, Tokyo and Sydney.
Product: Altium Concord Pro
Version: 2021 version 4.0.2 Build 1 with plug-ins
Supported Architectures: x64
Languages
Supported: english
System Requirements: PC
Size: 2.0 Gb
release info:
Altium Concord Pro 4.0.2.1.exe
Altium Altium Concord Designer CREO 2.6.0.9
Altium Altium Concord Designer Fusion360 2.6.0.9
Altium Altium Concord Designer Inventor 2.6.0.8
Altium Altium Concord Designer SOLIDWORKS 2.6.0.9
Link Download

Download Via UploadGig
Download Via Rapidgator
Extract files with WinRar 5 or Latest !