Altair Inspire 2021.2.2 | 3.1 Gb
The Altair Inspire products development team is pleased to announce the availability of Inspire 2021.2.2. This update includes the new enhancements, or resolved issues.
New Features and Enhancements 2021.2.2
Altair Inspire 2021.2.2 includes the following new features, enhancements, or resolved issues.
Enhancements
- Added the ability to select faces for extracting intersection curves. N-22027
- Improved Python API demos. N-26428
Resolved Issues
- Fixed the shortcut for the Extrude tool. N-26391
- Fixed a crash when opening files with instanced parts. N-26390
- Fixed an issue with an invalid edge connector causing Analysis Error 331. N-26372
- Fixed a crash when running the Sketch Realize API demo. N-26355
- Fixed an issue where the number of contacts found was different when loading a saved .stmod file. N-26009
- Fixed an issue where contacts changed upon running an analysis on a saved model. N- 25512
- Added Chinese translations for the user interface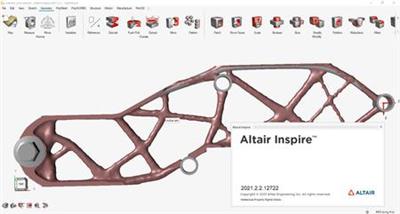 Inspire is an intuitive and powerful family of software products
that enables simulation-driven design throughout the entire product development lifecycle, from concept to reality.
When used early in the design process, the Inspire technology empowers the creation of designs that are focused on both performance and manufacturability and empowers its users to explore, develop, and manufacture high-performance products in a single intuitive development environment.
Altair Inspire Overview
Altair
is a global technology company that provides software and cloud solutions in the areas of product development, high performance computing (HPC) and data analytics. Altair enables organizations across broad industry segments to compete more effectively in a connected world while creating a more sustainable future.
Product:
Altair Inspire
Version:
2021.2.2 Build 12722
Supported Architectures:
x64
Website Home Page :
www.altair.com
Languages Supported:
english
System Requirements:
PC *
Size:
3.1 Gb
Operating Systems:
- Windows 10 (64 bit)
- Windows 8.1 (64 bit)
- Windows 7 (64 bit)
Hardware:
- OpenGL graphics card with at least 256 MB of onboard memory
- Note: Integrated Intel graphics hardware is currently not supported.
Memory:
- 4 GB of RAM (8 GB recommended)
- 10 GB or more of free hard disk space

Buy Premium From My Links To Get Resumable Support,Max Speed & Support Me