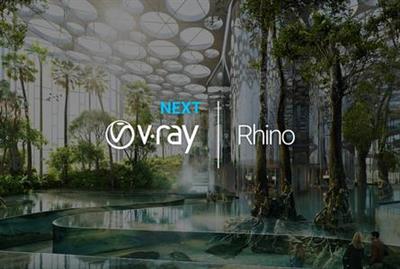 V-Ray 5.20.01 (x64) for Rhinoceros | 622.5 Mb
V-Ray for Rhino is much more than a do-it-all smart renderer that creates gorgeous images of your designs. It is also a full suite of tools to help you accomplish more in Rhinoceros than ever before. V-Ray Next makes it easier to manage everything in your scene - even the crazy complex ones. It is 50% faster overall, with GPU rendering 2x as fast and 7x faster using the Adaptive Dome Light. V-Ray Next for Rhino is compatible with Rhino 5 and 6 on Windows only.
Superior Grasshopper support:With V-Ray Next, you can do more in Grasshopper than ever before and get advantage of powerful capabilities. Render your parametric designs directly without "bakes" or exports. Animate Grasshopper definitions as well as cameras and sun, and measure real-world illumination values - all right in Grasshopper.
Adaptive Dome Light: Render faster, cleaner and more accurate image-based lighting that's up to 7x faster. The new Adaptive Dome Light also removes the need to set up Portal lights for interiors.
Powerful asset management: The new asset management system helps you keep track of everything in your scene and streamlines your entire workflow. Now it is quick and easy to preview and manage lights,
materials
, textures and more all from a single location.
Simplified Render controls: V-Ray Next for Rhino includes a redesigned interface that is more intuitive and easy to use. From the new camera layout to the simplified render controls, you'll spend less time navigating and more time designing.
Material
metalness: The V-Ray
Material
adds native support for metallic reflections (Metalness) for greater compatibility with PBR
materials
from applications like Substance Designer.
Automatic exposure & white balance: Capture the perfect exposure every time. The new Auto Exposure and Auto White Balance camera controls make rendering as simple as point and shoot.
Optimized
materials
: V-Ray
materials
have been fine-tuned for faster render speeds, improved GPU rendering, and Chaos Cloud compatibility
Version of Rhino:
Rhino 6 (6.29.20238 or later)
Rhino 7 (7.0.20314 or later)
System Requirements:
OS: Windows 8.1 and Windows 10 Professional (64-bit only)
Processor: 1st Gen Intel® Core™ or compatible processor with SSE4.2 support (x64).
RAM: 4 GB RAM and 4 GB swap minimum - recommended 8 GB or more RAM, 8 GB or more swap file.
Hard Disk Space: Minimum 2GB, Recommended 12GB (includes additional downloadable content)
TCP/IP: Only IPv4 is supported. IPv6 is currently not supported.
Supported GPU: Maxwell-, Pascal-, Volta-, Turing- and Ampere- based NVIDIA card(s) with the latest recommended video driver (for both CUDA and RTX - enabled cards)
V-Ray Vision requires a Graphics card with DirectX 11 or DirectX 12 and Shader Model 5.0 capabilities
Home Page -
https://www.chaosgroup.com/

Buy Premium From My Links To Get Resumable Support,Max Speed & Support Me