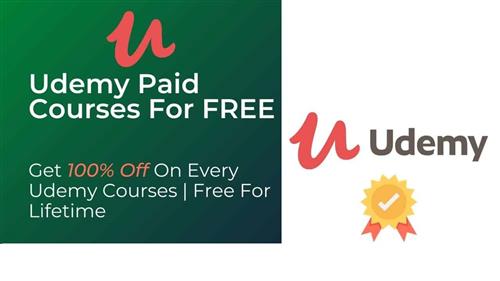 MP4 | Video: h264, 1280x720 | Audio: AAC, 44.1 KHz, 2 Ch
Genre: eLearning |
Language
: English + srt | Duration: 102 lectures (7h 34m) | Size: 2.23 GB
Master Airtable from scratch and build databases, visualizations, apps, dashboards, and workflows with Airtable
What you'll learn:
Become an expert at using Airtable to manage your project's data, views, and workflows
Create an Airtable database, with rich field logic inputs, table linkages, and custom layouts
Define and create views based on several different types, like grids, calendar, Kanban, timeline, and many more
Build sophisticated analysis using custom filters, sorts, and groups
Add customizable forms that allow users to add and update records
Create robust visualizations (charts, graphs, analytics) that sit on top of your data
Perform analysis and build insights on your data with Airtable's extensible app library
Build and automate workflows using your data, including sending emails, updating records, making tweets, and creating alerts
Perform integrations with email, twitter, and many more apps to take your Airtable application to the next level
Learn Airtable's unique no-code structure and workspace, that permits multiple collaborators and users
Use collaboration tools like record traceability, sharing, and permission management to build your company around Airtable
Requirements
No Airtable knowledge necessary, come hungry to learn
While database concepts and knowledge of Excel is an asset, it is not necessary as we assume no familiarity in that content
Description
The power of a database, with the simplicity of a spreadsheet - Airtable is the no-code collaboration platform trusted by thousands of organizations like Netflix and Shopify.
Learn from more than 7 hours of relevant instructional video content, with the only complete beginner to expert guide on Airtable. No coding or any expertise required!
Do you want to take your organization's data to the next level? Do you want to have a single source of truth that your team relies on? Do you want to have one workspace for all of your solutions? Do you want to automate common workflows? Then harness the power of Airtable, a no-code browser-based data platform.
This course is the only comprehensive guide you'll ever need to Airtable. It covers everything from Beginner topics like fields, table linkages, and views to more advanced topics like apps, automations, and workflow management. The course also takes you step-by-step and assumes you have no experience at all with Airtable.
The course is designed so you become an expert at Airtable. We do this by learn all the concepts in stages - beginner, intermediate, and then expert. We create an entire Airtable workspace from scratch. We also continuously update the course!
If you're looking for something that will teach you how to create powerful business solutions with a single source of truth database, visualization, and automation platform using no-code from beginner to expert, then this is the course for you!
Airtable is rated as the #1 No-Code Workspace Tool. Airtable is trusted by over 200 leading organizations, like Netflix, TIME, Shopify, and Expedia. In March 2021, Airtable was given a $6 Billion valuation and shows absolutely no signs of stopping. Airtable also exists on the cloud, and gives you the full benefit of its scalability.
What is Airtable?
Airtable is a no-code intuitive browser-based platform to create single source of truth databases, that contains powerful apps, automations, and integrations, which are used to empower teams and improve efficiency, teamwork, and operations. Airtable gives you the power of a database and visualization software with the familiarity of an Excel spreadsheet. Organizations use Airtable to collaborate on projects.
What are the main features of Airtable? / Why should I learn Airtable?
Powerful database: Airtable itself is a very powerful database - it contains rich fields to store files, photos, attachments, and holds complex fields like single selects and checkboxes. Airtable also allows you to link tables together, creating sophisticated linkages that work together to create powerful databases.
Sophisticated views and forms: Airtable permits you to create views on your data, whether they would be in grid form, calendar, Kanban, timelines, or many more types. Airtable also has customizable forms used to share and input data.
Robust visualizations: Airtable contains capabilities to produce dashboards with charts, that are automatically updated when your underlying data is modified.
Extensible apps: Apps take your data in Airtable to a whole other level, whether in Pivot tables, Charts, Page Designers, or Summary calculators.
Workflow automations: Airtable automates common workflows within your data - have a weekly digest that needs to be sent out? A sales plan that needs to be created for every new customer? Airtable will automate it for you.
No-code platform: Airtable is a no-code platform that runs in your browser - you get the power of a database and visualization software without ever needing to write any code.
Scalable: Since Airtable runs on the cloud, it can scale very well. Airtable is used by both small teams and large corporations (like Netflix), with full access to all features.
Collaboration tools: Airtable is built with collaboration - it contains sophisticated sharing capabilities, commenting features, and permission settings.
Why take this course?
Comprehensive guide: This is the only 100% start to finish, zero to hero, basic to advanced guide on Airtable. This course assumes you have zero experience with Airtable and develops you to an Airtable power user!
Instructional with examples: The course is structured in a way to maximize your learning. We go through key structured learning blocks where we develop your Airtable toolkit. All examples used include the reference data, so you can follow along.
Great resources: There are hours of content and resources in this course. There are more than 7 hours of video content available. You also have lifetime access to not only the videos, but to me as well through the Q&A feature. We also offer a 30 days money-back guarantee.
Course and Module Overview
Introduction: learn about the features of Airtable and how to succeed in the course
Beginner - Set up: create an Airtable account and learn the terminology
Beginner - Fundamentals: learn how to load data, edit records, and look at version history
Beginner - data: learn how to manipulate data using filters, sorts, etc. and how to add new complex columns
Beginner - Load: learn how to load data and create data from scratch
Beginner - Views: learn how to create views, calendars, galleries, Kanbans, and more
Intermediate - Forms: learn how to create forms used to update tables and add data
Intermediate - Relationships: learn how to connect tables with each other and create linked records
Intermediate - Collaborate: learn about the sharing and permissions functionality
Intermediate - Apps: learn how to use Pivot Tables, Charts, Page Designers, and other Airtable apps
Intermediate - Dashboards: learn how to combine apps to create Airtable dashboards
Expert - Scripts: learn how to deploy Airtable scripts like dedupe and batch update
Expert - Automations: learn how to automate common workflows in Airtable
Expert - Integrations: learn how to integrate Airtable with other 3rd party applications
Conclusion: learn about next steps, and obtain the certificate
We're looking forward to having you in the course and hope you earn the certificate. Please let me to know if you have any questions!
Music: bensound
Who this course is for
Anyone who wants to learn the basics of Airtable
Anyone who wants to master Airtable (who is looking for a complete beginner to expert guide)
Entrepreneurs who want to manage their business in a smarter way than traditional spreadsheets
Managers who currently store data in outdated Excel files and want to find a better way
Managers who currently store files in the cloud or email files, and want to find a better way to organize
Learners looking for an alternative to Google Sheets or OneDrive Excel
Workers who want to improve teamwork and collaboration, and who use data and workflows
Beginner, intermediate, and expert users of Airtable
Homepage

Buy Premium From My Links To Get Resumable Support,Max Speed & Support Me
Links are Interchangeable - No Password - Single Extraction