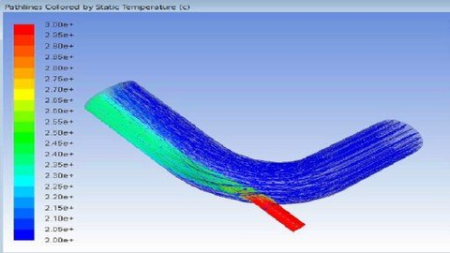 MP4 | Video: h264, 1280x720 | Audio: AAC, 44.1 KHz
Language
: English | Size: 2.52 GB | Duration: 4h 18mSpace Claim(Creating Model), Meshing (Meshing Method), Fluent(Post-Processing)
What you'll learn
They will learn how to create and edit sketches, switch from 2D to 3D model in Space Claim
Student will learn how to choose the best meshing method for their application, understand the difference between Hexahedral vs Tetrahedral
Student will learn how to use post procesing tools such as surface,graphic, mesh etc.. in Fluent
They will learn how to create surfaces for post processing by using workshop file provided in this course and get the idea basic usage of CFD-Post
Note: This is course #3. There are total 10 course(#1 through #10). Please check them as well.
Requirements
Basic Engineering Knowledge
Powerful computer has Ansys Fluent program,installed
Description
Space Claim= Creating 3D Model from scratch with using tools such as sketch creation,pull, blend,Split body,move, do practice with assembly model, and detailing the drawings and do practice with workshop model.
Creating Sketches
Editing Sketches
Space Claim Interface
Switching to 3D Mode
Pull Adv
Move Adv
Fill Adv
Blend Adv
Combine Adv
Split Body Adv
Assembly
Structural Tree
Detailing
Ansys Meshing= Learn difference between the Main Meshing method such as Tetrahedral(Patch Conforming and Patch Independent) and Hex Meshing(Sweept, Multizone ,Hex dominant) and learn how to recording the meshing and doing more practice with Workshop model section.
Which method to choose?
Hexahedral vs Tetrahedral
Tetrahedral Meshing
Patch Conforming
Patch Independent
Hexhedral Meshing
Sweep
Multizone
Hex dominant
Automatic Method
Recording Mesh
Ansys Fluent= Learn how to use the ribbons in the Post-processing section and learn how to do quantitative and qualitative flow performance of the system with using both CFD Post and Fluent also learn how to create graphical objects such as mesh, contour, vector,pathlines, Composing and displaying scenes using scene objects, Alphanumeric post processing of fluxes and integral quantities Defining new variables using custom field functions and creating x-y plot , check the residuals in the Plot section and show how to use animation tools in the CFD Post and Fluent.Doing more practice with Workshop model section.
Fluent Post-processing Tools
CFD Post Application
Surface
Create
Graphics
Mesh
Contour
Vector
Pathlines
Plots
XY Plot
Residual
Interpolated Data
Report
Fluxes
Forces
Surface Integrals
Volume Integrals
Animation
Workshop1: Post-processing
-Creating surfaces for post processing
-Creating graphics objects such as contours and vectors
-Composing and displaying scenes using scene objects
-Alphanumeric post-processing of fluxes, forces and integral quantities
-Defining new variables using custom field functions
-Basic usage of CFD-Post
Who this course is for:
Engineers,Designers,Engineering Students,Consultants
Engineer who has engineering want to know how to do simulation with Ansys Fluent