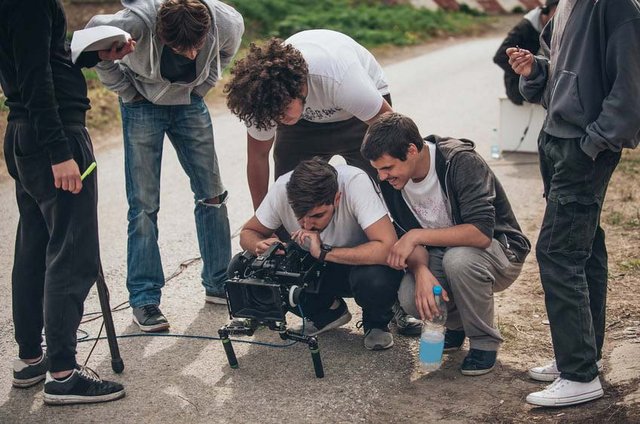 Created by Steve Dunning | Last updated 4/2021
Duration: 1h 59m | 1 section | 33 lectures | Video: 1280x720, 44 KHz | 2.4 GB
Genre: eLearning |
Language
: English + Sub
==========
Hollywood Filmmaking from the A-side: What It Really Takes & How YOU can get to the Oscars and beyond.
What you'll learn
The Real Deal of directing in Hollywood, filmmaking is much more than you think.
What you need to do to "Make It" as a movie director and pro filmmaker.
If you "Make It," what you're gonna actually deal with as a film maker.
How to avoid the Big Mistakes of filmmaking.
What you need to do from Writing the movie, Making the film, Releasing it, & making Money from it.
How to Create your own Legacy, with or without film school.
What it's like in Cannes, at the Oscars, Emmys, major film festivals, film markets around the world.
Working with A-List movie actors, film producers and film directors.
Real life Hollywood film production, pre production and post production tips and pro advice.
Requirements
Dreams.
Description
"Your workshop was excellent - truly!" "I got so much out of it!!" "You are great Steven! - Truly...was a gift you gave everyone last weekend at the summit!" Ron Newcomb, CEO The Forge Studios
"I thought I knew what a director does but this education was a whole other level of all that it takes in Hollywood. To hear it from someone that has actually done it was what I always needed." Lowell Evans
"It's not like a 'how to direct your movie class' – it's a director's reality check!" Glen Javitz, Screenwriter
"I loved your personal Hollywood stories, thank you for sharing your professionalism and a look from the inside, I understand a lot better now how it all works. Helps me decide if directing is for me. Thanks for visiting our university." Julia Ouqe
"What a journey he has taken, really inspiring- motivates me to keep going!" J.P. Sterns, Actor/Director
Film Directing is much more than art, more than working with actors and camera moves. There are many more things to the craft, vision, reality and business of being a movie director. Learn from the decades of experience from a director that is also a writer and producer that has worked with talents like Tom Hanks and Sally Field, Chris Carter and Frank Marshall and at Steven Spielberg's Amblin, Universal, Fox, HBO, NBC and many more. Going to the Oscars, Emmys, Cannes, AFM, DGA and Golden Globe director screenings and special events are all part of the inside view he will share with you in this in depth look at all the aspects of directing you're gonna deal with as a real Hollywood or indie filmmaker.
Steve Dunning came cross country to the entertainment industry from a small town with no connections. Knocked on doors everywhere in Hollywood, worked hands on in all film departments, often for free on many productions just to get a foot in the door. Climbing up from a production assistant to writer, producer and director with his own film work now in the permanent film collection of The Academy of Motion Picture Arts and Science, the Oscars, and the UCLA Film and Television Archives.
Personal and practical experiential learning on set watching great directors like Frank Darabont, Jon Favreau, Michael Bay work with talents like Daniel Craig, Harrison Ford, Olivia Wilde and more was highly beneficial for his own directing work.
And now you can benefit from it all through this personal, educational and informative lecture full of real Hollywood insider tips, stories and insights that will take you leaps towards your Hollywood dreams.
Join this private seminar on Directing for anyone that thinks film directing may be for them, this professional Hollywood industry veteran tells it like it is. And questions to you and the audience make it fun to see what you know so far and all of the things you never knew. So learn it all now from someone who has done it for real in the A-List circles of the current entertainment business.
Be engrossed by the overarching and fascinating view inside Hollywood you can now peek into and see what it will take for you to reach your film directing goals. Whether it's striking deals on a billionaire's yacht in Cannes, on set with John Turtletaub and Mike Nichols, examining the original light saber at George Lucas's Skywalker Ranch, having Peter Bogdanovich show you Orson Welles memorabilia in his Hollywood Hills home or simply having a chat with Francis Ford Coppola at his vineyard- you will get a glimpse of the Director's world up close and personal.
Lived by your lecturer Steve Dunning, writer, producer and director- his hard work and years of navigating the unknowns of Los Angeles brought him the access, rewards and knowledge to reach his feature film directing dreams. Now you can benefit from it too, don't wait. We never know what tomorrow will bring.
"Impossible is not a word in my vocabulary." Steve Dunning, How I did it and YOU can too!
Who this course is for:Do you want to get paid to direct Hollywood movies? Then this seminar is for you.
Download
[QUOTE]https://nitro.download/view/80BACDB8721A46E/Film_Directing_Can_YOU_Be_a_Real_Hollywood_Movie_Director.part1.rar
https://nitro.download/view/CDB363AB21B63D3/Film_Directing_Can_YOU_Be_a_Real_Hollywood_Movie_Director.part2.rar
https://nitro.download/view/622646AE544B4F4/Film_Directing_Can_YOU_Be_a_Real_Hollywood_Movie_Director.part3.rar
or
https://rapidgator.net/file/2ba672ab3acaf4ae86deb4e5e1189eb2/Film_Directing_Can_YOU_Be_a_Real_Hollywood_Movie_Director.part1.rar.html
https://rapidgator.net/file/e4530546e2f871a464b4acc3936e0d3f/Film_Directing_Can_YOU_Be_a_Real_Hollywood_Movie_Director.part2.rar.html
https://rapidgator.net/file/3ad6fc21490ef73989cbbfe59eb3c0e5/Film_Directing_Can_YOU_Be_a_Real_Hollywood_Movie_Director.part3.rar.html
[/QUOTE]