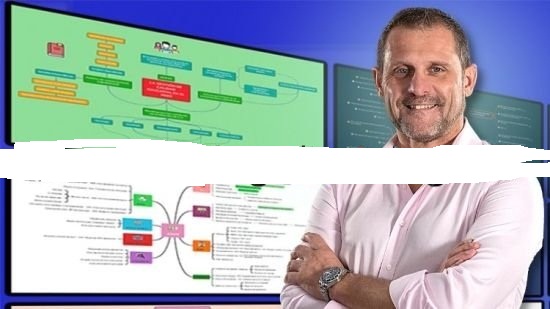 Duration: 1h 28m | Video: .MP4 1280x720, 30 fps(r) | Audio: AAC, 48000 Hz, 2ch | Size: 461 MB
Genre: eLearning |
Language
: English
==========
Mind Mapping at its core is a simple skill that allows you to build visually connected maps of information that is important to you. You can use a Mind Map for any kind of planning, organisational or information gathering / management task.
Mind Mapping has come a long way since its inception as a Paper and Pencil based memory tool. Software such as the free Xmind program which we use in this course now allows you to quickly and easily build Mind Maps to help you organise any facet of your life.
In this short, focussed course we will explain the basics of Mind Mapping. Then we will lead you by the hand as we create and refine a simple but effective To-Do List.
Finally, together we will perform a Brain Dump, an exercise designed to help you gain control of many loose ends you need to manage in your life, get those loose ends documented, prioritised and scheduled so that you no longer need to think or worry about the things you need to do, until it is time to actually do them. Brain Dumping is much more than just a To-Do List, it helps you identify the next steps of each task and group them together so that you can quickly work on similar tasks at the same time and make the most of your time.
If you've ever had a 'Oh I must remember to…….' thought as you are busy doing something else then Mind Mapping could be very useful.
Homepage
[QUOTE]https://nitro.download/view/279B09DAB82C7B1/Mind-Mapping-for-Beginners-2021-Learn-how-to-effectively-Brain-Dump-and-Manage-your-To-Do-list.rar
or
https://rapidgator.net/file/7279581670b0e8dee4775ffb9faa3313/Mind-Mapping-for-Beginners-2021-Learn-how-to-effectively-Brain-Dump-and-Manage-your-To-Do-list.rar.html
[/QUOTE]