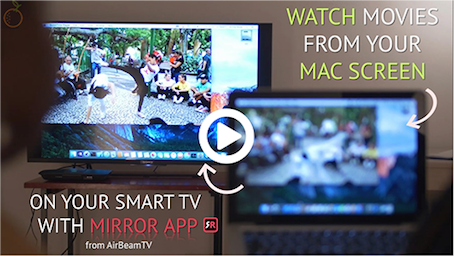 Mirror for Smart TV apps by AirBeamTV (upd 28.11.2019) macOS | 257 MB
AirBeamTV offers the solution to mirror the screen and audio of your Mac or Macbook to any Smart TV. No wires and no additional hardware needed! You can stream any app on your Mac screen to your television. With the Mirror for Smart TV apps you can watch your favourite shows together on the big screen.
Download and install the Mac app for the Samsung, Sony, Panasonic, Philips and LG Smart TV's today, to get started! We also have applications for Roku, Amazon Fire TV, Chromecast , Android TV and other!
Included:
Mirror for Android TV 2.4.4
Mirror for Arcelik TV 3.4.4
Mirror for Beko TV 3.4.4
Mirror for Chromecast 2.7.1
Mirror for Fire TV 2.4.5
Mirror for Hisense TV 3.5.7
Mirror for Grundig TV 3.4.4
Mirror for Hitachi TV 1.0.2
Mirror for LG TV 3.5.6
Mirror for Panasonic TV 3.5.6
Mirror for Philips TV 2.5.6
Mirror for Roku 2.7.5
Mirror for Samsung TV 3.5.6
Mirror for Sharp TV_3.5.8
Mirror for Sony TV 3.5.6
Mirror for TCL TV 3.5.7
Mirror for Toshiba TV 1.0.2
Supported Operation Systems:
macOS 10.10 or later 64-bit