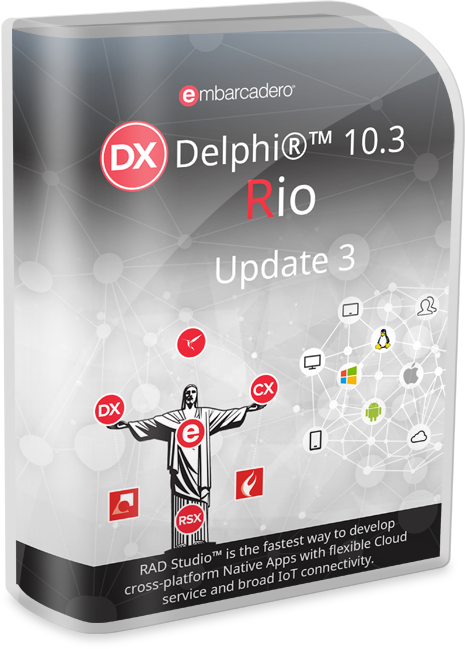 Embarcadero Delphi 10.3.3 Rio Version 26.0.36039.7899 Lite v15.3 (x86/x64) | 2.82 GB
Delphi® 10.3.3 is the fastest way to develop cross-platform native applications using cloud services and a broad connection IoT. It provides powerful VCL components for Windows 10 and enables you to develop FMX for Windows, Mac Mac64 and mobile devices. Delphi® 10.3.3 supports a wide range of services for corporate-oriented development.
Look for increased storage capacity for large projects, enhanced multi-monitor support, improved object inspector and more. Delphi® 10.3.3 provides a 5-fold increase in the speed of development and deployment across multiple desktop, mobile, and cloud environments, database platforms, including 32-bit and 64-bit Windows 10.
Extras. about Delphi® 10.3.3 Rio Information
Language
Enhancements with default constructors, destructors, and operators of the copy; additional improvements syntax.
Improve productivity Delphi RTL
Delphi compiler and quality Codesight
Satisfy the requirements of Apple App Store and macOS platform with support for 64-bit platforms macOS, including the entire experience of developing, deploying, and debugging
The new 64-bit compiler and macOS macOS runtime library is upgraded to support 64-bit systems
Support for databases and drivers FireDAC
HTTP client libraries, including cloud and RAD-servers
Full support for integration with the interface library and FireMonkey platform
Support for the deployment of App Store
Support notarization MacOS applications.
Support Android 64 bits Android64
In this hand only Embarcadero Delphi 10.3.3 Rio without C ++ Builder (a).
Year / Date of Release: 2019
Version: 10.3.3 Build: 26.0.36039.7899
Developer: Embarcadero Technologies.
Developer website:
www.embarcadero.com
Bit depth: 32bit, 64bit
Language
: English
Medicine: cured
System requirements:
Intel® Core® or compatible, at least 2GHz (recommended 2.6GHz +)
Minimum 2GB RAM (recommended 4 GB +)
7 GB to 60 GB of available hard disk space.
Supports DirectX 11 graphics card with a resolution of 1024x768 pix or higher.
Supported Platforms Workstation:
Microsoft Windows 7 SP1 (32 and 64 bit)
Microsoft Windows 8 (32 and 64 bit)
Microsoft Windows 8.1 (32 and 64 bit)
Microsoft Windows 10 (32 and 64 bit)
Server platforms:
Microsoft Windows Server 2008 (32 and 64 bit)
64 bit:
Microsoft Windows Server 2008 R2
Microsoft Windows Server 2012
Microsoft Windows Server 2012 R2
Microsoft Windows Server 2016
Microsoft Windows Server 2019