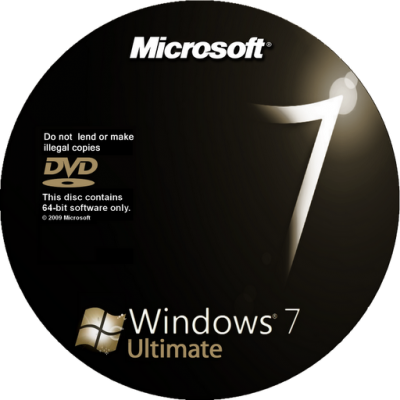 Windows 7 Ultimate with SP1 X86 Genuine Untouched ISO -Core | 2.4 GB
Designed for people who want it all Windows 7 Ultimate is the most versatile and powerful edition of Windows 7. It combines remarkable ease-of-use with the entertainment features of Home Premium and the business capabilities of Professional, including the ability to run many Windows XP productivity programs in Windows XP Mode. For added security, you can encrypt your data with BitLocker and BitLocker-To-Go. And for extra flexibility, you can work in any of 35
languages
. Get it all with Windows 7 Ultimate.
Simplify everyday tasks
*Simplify your PC with new navigation features like Shake, Jump Lists, and Snap.
*Personalize your PC by customizing themes, colors, sounds, and more.
*Easy to network (with or without a server).
*Back up your complete system over a network.
*Help protect data on your PC or portable storage device against loss or theft with BitLocker.
Work the way you want
*Designed to make your PC sleep and resume quicker.
*Takes full advantage of 32/64-bit PC hardware and memory.
*Windows XP Mode gives you the business flexibility you need.
*Switch between any of 35
languages
.

Make new things possible
*Watch shows for free where and when you want with
Internet
TV on Windows Media Center.
*Send media from your PC to devices on your home network
*Supports more media formats, including integrated video and Dolby audio codecs.
Most of us have come across tools or utilities which allow us to make USB version of Windows or Windows Bootable USB Stick.Now, Microsoft are now officially providing Windows 7 USB/DVD Download Tool
Using this tool, windows user can install Windows 7 from USB stick or DVD on their Computers / Laptops.
Windows 7 USB/DVD Download Tool burns an ISO of Windows 7 on a USB Stick or DVD. If you have purchased Windows 7 from Microsoft Store, then you will be given an option to Download Windows 7 ISO or Compressed Files

Installation Instructions:
*Install Program
*Run Application, browse for downloaded Windows 7 Ultimate ISO
*Insert empty DVD or Plug-in USB Drive (4GB Minimum) and Burn Windows 7 on it
*Once done, you can use DVD or USB to install Windows 7
*For Activation Use Windows 7 Loader
* All you Done
(All below links are interchangable. No password)
Buy Premium To Support Me & Get Resumable Support & Max Speed

Windows-7-Ultimate-with-SP1-X86-Genuine-Untouched-ISO-Core.part1.rar
Windows-7-Ultimate-with-SP1-X86-Genuine-Untouched-ISO-Core.part2.rar
Windows-7-Ultimate-with-SP1-X86-Genuine-Untouched-ISO-Core.part3.rar
Windows-7-Ultimate-with-SP1-X86-Genuine-Untouched-ISO-Core.part4.rar
Windows-7-Ultimate-with-SP1-X86-Genuine-Untouched-ISO-Core.part5.rar
Windows-7-Ultimate-with-SP1-X86-Genuine-Untouched-ISO-Core.part6.rar
Windows_7_Ultimate_with_SP1_X86_Genuine_Untouched_ISO_-Core.part1.rar.html
Windows_7_Ultimate_with_SP1_X86_Genuine_Untouched_ISO_-Core.part2.rar.html
Windows_7_Ultimate_with_SP1_X86_Genuine_Untouched_ISO_-Core.part3.rar.html
Windows_7_Ultimate_with_SP1_X86_Genuine_Untouched_ISO_-Core.part4.rar.html
Windows_7_Ultimate_with_SP1_X86_Genuine_Untouched_ISO_-Core.part5.rar.html
Windows_7_Ultimate_with_SP1_X86_Genuine_Untouched_ISO_-Core.part6.rar.html
Windows%207%20Ultimate%20with%20SP1%20X86%20Genuine%20Untouched%20ISO%20-Core.part1.rar
Windows%207%20Ultimate%20with%20SP1%20X86%20Genuine%20Untouched%20ISO%20-Core.part2.rar
Windows%207%20Ultimate%20with%20SP1%20X86%20Genuine%20Untouched%20ISO%20-Core.part3.rar
Windows%207%20Ultimate%20with%20SP1%20X86%20Genuine%20Untouched%20ISO%20-Core.part4.rar
Windows%207%20Ultimate%20with%20SP1%20X86%20Genuine%20Untouched%20ISO%20-Core.part5.rar
Windows%207%20Ultimate%20with%20SP1%20X86%20Genuine%20Untouched%20ISO%20-Core.part6.rar