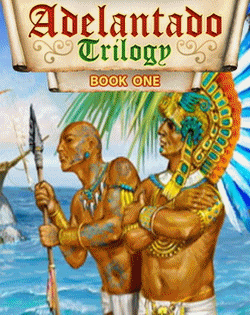 Adelantado Trilogy(All 3 Books/Episodes)
• Adelantado Trilogy - Book One
• Adelantado Trilogy - Book Two
• Adelantado Trilogy - Book Three
This is an updated version due to the recent update of book 3
Adelantado Trilogy - Book One
Discover the fabulous secrets that a jungle hides in Adelantado Trilogy: Book One! Help the brave and noble officer, Don Diego De Leon, to find and save the lost expedition. Befriend the natives who can be of valuable assistance to you. Help them as you restore buildings, harvest foods, and create a settlement. Upgrade your skills and earn fabulous trophies. Treasures await you in this exciting Strategy game!

Adelantado Trilogy - Book Two
The story of Adelantado continues in Book Two - get ready for new adventures and unexpected twists! The sequel starts where the previous part left off. Don Diego has found a new path and now he continues his mission. There are still survivors from the previous expedition to save, glory to achieve and gold for the Spanish Crown to find. His crew, however, is tired. While some people start to rebel and abandon Don Diego, some stay loyal, and together they advance through wild jungles and endless swamps.

Adelantado Trilogy - Book Three
The story of Adelantado continues in Book Three - get ready for an epic conclusion of this amazing trilogy! Don Diego finds himself on top of the high cliff. There he comes across a stone that tells the story of these ancient and mysterious lands and its beautiful but dangerous inhabitants. Despite the risks that lay ahead the brave explorer has to push forward and finish his quest to find the lost expedition.
Buy Premium Account From My Download Links And Get Resumable Support & SUPER Fastest speed