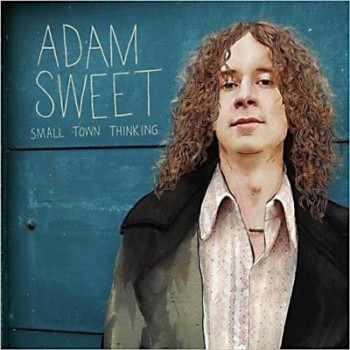 Artist
: Adam Sweet
Title Of Album
: Small Town Thinking
Year Of Release
: 2013
Label
: NEO Music
Genre
: Blues Rock
Format
: MP3
Quality
: 320 kbps, 44.1 Khz
Total Time
: 41:09
Total Size
: 96 Mb
Covers
: Front
Tracklist:
01. At Times Like This (3:46)
02. The Best Thing She Ever Had (3:46)
03. Doin' Alright (4:04)
04. The Next Man After Me (3:38)
05. Evening (5:07)
06. I Work Alone (4:41)
07. Name Your Price (3:15)
08. You Think You're Lonely (5:22)
09. Santarosa Street (2:42)
10. When The Time Is Right (4:42)
"How one man can sit on stage with one guitar and create such fantastic live music is astonishing!" The Weekender Review (November 2011)
"Adam Sweet is one of those genuinely engaging performers who, with just his voice and guitar, makes rock and blues music talk across the ages. He is surely destined for far bigger things, and like all great young blues performers, sings with a maturity and power well beyond his years." The Keynsham Music Festival Association (June 2013)
"Adam Sweet is busy forging himself a reputation as a singer, blues man, par-excellence. His great voice and driving guitar style mark him out as a musician really going places." Milverton Music Club (April 2013)
"The outstanding artist of the weekend for me. I've been around a lotta years & seen a lot of people perform, but never someone who filled a stage and a venue the way Adam does - the sound was awesome. His tribute to Peter Green, Green Manalishi can only be described as epic! I was first in the queue to buy his EP..." Rob Hussey - Bakewell Acoustic Music Festival 2012 Review
Adam Sweet is an exceptionally talented young guitarist and singer from the South West of England. His high energy solo shows of quality original music and interpretations of rock and blues classics never fails to impress.
Adam began performing as a guitarist from the age of 15, appearing regularly at venues around his hometown. It was the classic rock and blues music of the 60s and 70s that inspired him so greatly to get out there and play, and from this young age Adam could frequently be found recreating the music of his guitar heroes on the local scene. Since then Adam has honed his craft through continually performing with various bands for over 10 years, and with this experience is now successfully carving out a solo career.
Since signing to independent Devon based label NEO Music in 2012, Adam's profile has been steadily rising. Following the release of his debut live EP "I Work Alone", Adam made his mark at some high profile festivals, completed his first tour of Scotland and received a nomination for Best Blues Act at the South West Music Awards, whilst continuing to perform countless shows across the South West region. 2013 has seen this momentum continue to grow, and after spending a year co-writing new
material
with award winning stalwart singer/songwriter Steve Black, and recording with both producer Alan West at NEO Music in Devon and Thomm Jutz at his studio in Nashville, Adam's debut album "Small Town Thinking" is due for release this winter.
Download here:
Mirror 1:
Mirror 2:
Mirror 3: