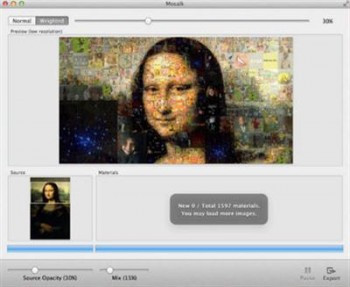 Mosaik 1.2 | MacOSX | 2 MB
Easy powerful photo mosaic generator. Make beautiful photo mosaics from your own photos. It's just easy, light and powerful.
* Active area selection
* Adjustable mix level (0~100%)
*
Material
scattering,
material
management
* Supports exporting mosaic data to csv file
* JPG, PNG, BMP export (up to 15,000 x 15,000 px)
* Supports weighted mode which divides the cells depending on delicacy.
* Mixing more
* Exporting speed improved
* Exporting mosaic data to a csv file
Home Page
-
http://www.meanterm.com
Link Download
Buy Premium Account To Support Me & Get Maximum Speed & Save Time!!