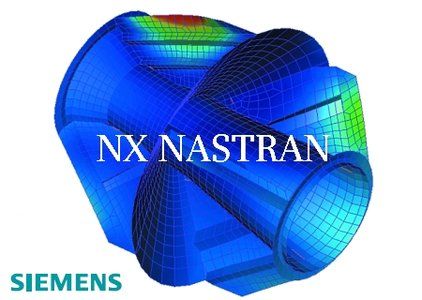 Siemens NX Nastran 8.5 | 983.8 mb
NX Nastran is a general purpose Finite Element Analysis solver capable of simulating a broad range of engineering problems in many different industries.
NX Nastran solves structural analysis problems for linear and nonlinear analysis, dynamic response, rotor dynamics, aeroelasticity and optimization. The NX Nastran 8.5 release further increases the types of solutions you can perform, along with a number of computational performance and engineering workflow improvements as highlighted by the examples below:
Discipline and Physical Domain Extension
Speeddependent bearing properties for rotor dynamics allow you to more realistically simulate bearings in rotating systems, such as aircraft engines. Properties of the bearing are speeddependent and support the inherent crossdirectional coupling stiffness and viscous damping.
Greater flexibility to model multirotor systems allows you to describe speeds of all rotors independently. This means you can model multiple rotors to have more complex rotor speed functions that are not simply fixed ratios between each other.
Frequencydependent acoustic absorbers characterize absorbing
material
as fluid with equivalent properties. This results in a less computationally intensive solution than direct modeling.
Computational Performance and Numerical Accuracy
SMP (shared memory parallel processing) enabled iterative solver reduces linear static solution time by as much as 45 percent on 8 CPUs, for higherorder solid models.
DMP (distributed memory parallel processing) for contact analysis can be done as part of a modal solution. Contact is often a preload for a modal solution, and now the automated substructuring used for the eigensolution is reused for the contact part of the solution.
Ease of Modeling and Engineering Workflow
F06 to Excel translator is a new utility that is available which converts printed .f06 output to the Microsoft Excel .xlsx file format for easy postprocessing or plotting.
Edgetoedge contact defines contact conditions between selected element edges of axisymmetric elements. Edgetoedge linear contact can be used in solutions for linear statics, normal modes, buckling, modal frequency and transient response.
Edgetoedge glue is a simple and effective method to join dissimilar shell meshes. Glue connections between the edges of shell elements in the same plane simplify the modeling process for you, without compromising the accuracy of the structural analysis.
Grid and element ID limit has been expanded to 11 digits when the ILP64 solver and large field bulk data format are used. This means the maximum ID length, number of grids and elements is now 99,999,999,999 which allows for larger models or more flexibility in ID management.
About Siemens AG
Siemens AG is a German engineering conglomerate, the largest of its kind in Europe. Siemens has international headquarters located in Berlin, Munich and Erlangen. The company has three main business sectors: Industry, Energy, and Healthcare; with a total of 15 divisions. Worldwide, Siemens and its subsidiaries employ approximately 420,800 people in nearly 190 countries and reported global revenue of 76.651 billion euros for the year of 2009. Siemens AG is listed on the Frankfurt Stock Exchange, and has been listed on the New York Stock Exchange since March 12, 2001.
Name: Siemens NX Nastran
Version: 8.5
Interface: english
OS: Windows XP / Vista / Seven
Size: 983.8 mb
Special Thanks SSQ
Link Rapidgator :