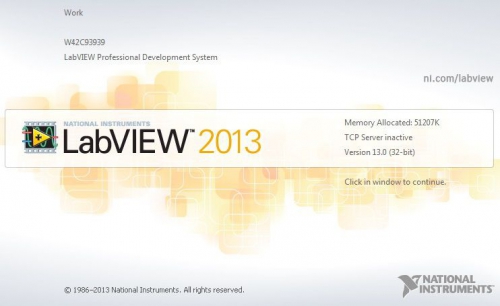 NI LabVIEW 2013 F1 Modules Toolkits and Drivers [2013,ENG] | 39.9 GB
LabVIEW
- is the graphical programming environment, which is used by technicians, engineers, teachers and scientists around the world to quickly create complex applications in the problems of measuring, testing, control, automation of scientific experiments and education.
In the concept is based on LabVIEW graphical programming - serial connection of functional blocks in the block diagram.
In the version of LabVIEW 2013 focuses on the integration of modern information technology, improving the development environment to simplify the application development process, as well as providing access to training and ready LabVIEW ecosystem of libraries.
1. LabVIEW 2013 (32-bit) English
2. LabVIEW 2013 (64-bit) English
3. LabVIEW Advanced Signal Processing Toolkit 2013
4. LabVIEW Digital Filter Design Toolkit 2013
5. LabVIEW 2013 Adaptive Filter Toolkit
6. SignalExpress 2013
7. LabVIEW 2013 FPGA Module - English
8. NI-RIO Device Drivers August 2013
9. NI LabVIEW 2013 FPGA Module Xilinx Tools 10.1
10. LabVIEW 2013 FPGA Module Xilinx Tools 14.4
11. LabVIEW 2013 FPGA Module f1 Patch
12. LabVIEW 2013 FPGA IP Builder
13. LabVIEW 2013 FPGA Compile Farm Toolkit
14. LabVIEW 2013 Desktop Execution Trace Toolkit
15. LabVIEW 2013 Datalogging and Supervisory Control Module
16. LabVIEW 2013 Real-Time Module - English
17. C/C++ Development Tools for NI Linux Real-Time, Eclipse Edition 2013
18. LabVIEW 2013 EPICS Client I/O Server
19. LabVIEW Database Connectivity Toolkit 2013
20. LabVIEW 2013 Control Design and Simulation Module
21. LabVIEW 2013 GPU Analysis Tookit (32-bit)
22. LabVIEW 2013 GPU Analysis Tookit (64-bit)
23. LabVIEW Biomedical Toolkit 2013
24. LabVIEW 2013 MathScript RT Module
25. LabVIEW 2013 for myRIO Module
26. NI OPC Servers 2013
27. LabVIEW 2013 PID and Fuzzy Logic Toolkit
28. LabVIEW Report Generation Toolkit for Microsoft Office 2013
29. LabVIEW 2013 Robotics Module
30. LabVIEW Statechart Module 2013
31. LabVIEW 2013 Touch Panel Module
32. LabVIEW Unit Test Framework Toolkit 2013
33. LabVIEW 2013 VI Analyzer Toolkit
34. LabVIEW DataFinder Toolkit 2013
35. LabVIEW Run-Time Engine 2013 - (32-bit Web Browser Plug-in)
36. LabVIEW Run-Time Engine 2013 - (64-bit Web Browser Plug-in)
37. LabVIEW Run-Time Engine 2013 - (32-bit)
38. LabVIEW Run-Time Engine 2013 - (64-bit)
39. NI Motion Assistant 2013
40. NI-DAQmx 9.7.5
41. LabWindows/CVI Real-Time Module 2013
42. LabVIEW 2013 Multicore Analysis and Sparse Matrix Toolkit Run-Time Engine
43. NI-TimeSync 1.3.0
44. Vision Development Module 2013
45. National Instruments RF Device Drivers April 2013
46. NI System Configuration 5.5
47. NI ELVISmx 4.5
48. NI TestStand 2013
49. NI TestStand Development System 2013 Patch 417513
50. LabVIEW 2013 LEGO MINDSTORMS NXT Module
51. LabVIEW Real-Time Module 2013 - USB Utilities - PharLap
52. LabVIEW 2013 (32-bit) f1 Patch
53. LabVIEW 2013 (64-bit) f1 Patch
54. NI LabVIEW Modulation Toolkit 4.3.4
55. LabVIEW Electrical Power Suite 2013
56. LabVIEW Jitter Analysis Toolkit 2013
57. LabVIEW 2013 System Identification Toolkit
58. NI TestStand ATML Toolkit 2013
59. Sound and Vibration Measurement Suite 2013
System requirements: Processor: Pentium 4 / M or equivalent
RAM: 1 GB
Screen Resolution: 1024 x 768 pixels
Operating Systems: Windows 8/7/Vista (64-bit), Windows Server 2008 R2 (64-bit)
Disk Space: 3.67 GB (includes default drivers from NI Device Drivers DVD)