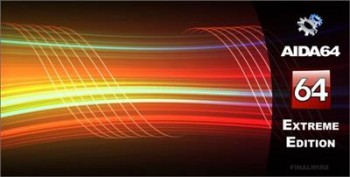 AIDA64 Extreme/Extreme Engineer Edition | Business Edition 3.20.2600 Final Repack by D!akov | 13.44 Mb
AIDA64 (former EVEREST) - the utility is a powerful tool for identification and testing of virtually all components of personal computers running operating systems Windows. Gives you detailed information about all the hardware and software, in addition, with built-in modules for testing and calibration can be further tested the individual subsystems PC. Displays detailed information about all the hardware and software installed on your system

Features:
- Level information about motherboard and CPU
- Details of the video drivers and monitor
- Information about all storage devices
- Exhaustive information about network adapters, multimedia and input devices
Information about other glands (PCI, PnP, PCMCIA, USB)
- Details of Windows, including the date of installation, the license key and more
Information about network shares, users and groups list, and much more
- Large amount of information about networking status, remote access, network resources and
Internet
settings
- Detailed information about installed programs, scheduled tasks and startup programs
- Information about operating system security
- A list of firewalls, anti-spyware and anti-
- System Stability Test
- CPUID Panel
- Hardware monitoring
- Benchmarks CPU and FPU
- Tests of memory
- Module performance test drive
- Detection of possible misconfiguration and compatibility issues of hardware and software
- Report Wizard
- Mailing and printing
New:
Microsoft Windows 8.1 RTM and Windows Server 2012 R2 RTM support
Support for up to 128 logical processors and 2 processor groups
SensorPanel area graphs and histograms
Optimized 64-bit benchmarks for Intel Core i7 "Ivy Bridge-E" CPU
HTML report menu, revamped MHTML report format
Socket FM2+ and LGA-1150 motherboards support
DirectX 11.2, OpenGL 4.4, APP SDK 2.8.1, OpenCL 1.2 SPIR support
Support for Bochs PC Emulator 2.6.2
Intel 525, Intel 530, Samsung 840 Evo SSD support
GPU details for nVIDIA GeForce GTX 750 Ti, GeForce GTX 760
Features RePack:
Type: installation | unpacking of the portable version.
Languages
: Russian | English | a Ukranian
language
.
Activation: it is lead.
It is cut out: the information, other localizations.
Keys of a command line:
Silent installation AIDA64 Extreme Edition: / S / IE
Silent unpacking AIDA64 Extreme Edition: / S / UE
Silent installation AIDA64 Business Edition: / S / IB
Silent unpacking AIDA64 Business Edition: / S / UB
Silent installation AIDA64 Extreme Engineer Edition: / S / IEE
Silent unpacking AIDA64 Extreme Engineer Edition: / S / UEE