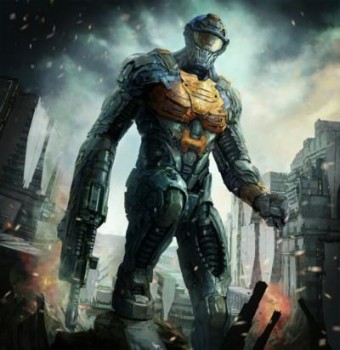 Iron Soul-SKIDROW (PC-ENG-2013)
English | Platform: PC | 2013 | Publisher: BluBee Games | Developer: BluBee Games | 1.66 GB
Genre: Action
Discovery of a new Goldilocks planet has led to the creation of a new type of army: One that is made of metal and steel. One that cant feel pain or fear. One that is said to be our only hope against a possible alien invasion. Sadly, even with all the technological advancements available to future governments, they are not fully in control of the machines The bot-mageddon is coming and it will be up to one our brightest scientists to help us against the inevitable.
Features:
Mechanical Tales: 2 story-focused campaigns (Though more like 1.5) that tell the tale of one robot invasion as well as the strange interferences our hero and his mentor suffer from during their journey.
Machine Perfect Controls: Fluid action and movement controls for intense robot battles and tight air jumps. This is one bot-mageddon thats full of shooting, platforming and of course, mild puzzle-solving challenges.
Cunning Enemies: Uniquely designed enemies that can come from the sky,ground or even underground in the most robo-tacular fashion, forcing you to choose your weapon (And tactics) wisely.
Combat Robo-tactic: More methodical players can use the free and non-sticky cover system while the crazier bot-slayers can go all in and run-n-gun their way through hostile territories.
Fallen World: Various environments from outdoor valleys to underground military bases have come to life thanks to the power of UDK. The levers are fully optimized and hold many challenges and secrets.
Crazy Voices: Full voice acting for all characters... excluding our main hero of course. After all, he is (allegedly) supposed to be a silent protagonist.
INSTALL NOTES:
1. Unpack the release
2. Mount or burn image
3. Install
4. Block the game in your firewall and mark our cracked content as
secure/trusted in your antivirus program
5. Play the game
6. Support the companies, which software you actually enjoy
Screenshots

Buy a Premium Account Uploaded or Rapidgator or Secureupload = High speed + Parallel Downloads!